Carbon Trends
State of the carbon cycle: An annual update of the global carbon budget
The Global Carbon Project will update annually the global carbon budget around July-August of each year when data from the various budget components is available.
Data and data sources are available from:
http://lgmacweb.env.uea.ac.uk/lequere/co2/carbon_budget.htm
---
Fossil fuel emissions have increased exponentially for the past decades with a clear acceleration in the growth rates over the last few years. Atmospheric CO2 concentrations and global mean temperature have increased accordingly.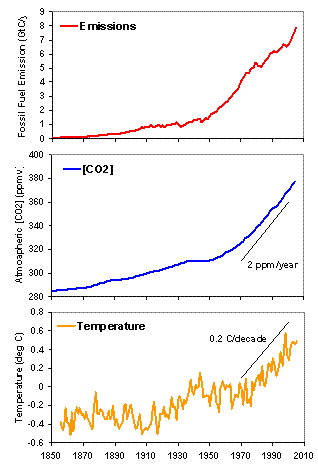 ---
Current emissions are following the trajectory of the IPCC-SRES (2000) "AIB" scenario (a globalized, technologically advanced world in which energy production includes a broad portfolio of fossil-fuel and non-fossil-fuel sources). Emissions are growing much faster than required for stabilisation at either 450 or 650ppm.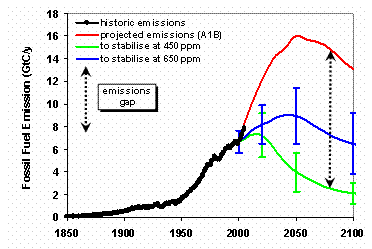 ---